Scene and Heard: Grit
Posted On January 29, 2015
---
As the name would suggest, Grit is passionate and brings a dedicated energy to the local music scene.
The Nitty-Gritty Details
The Tampa-based, southern styled rock n' roll band is the brainchild of guitarist/vocalist Ricky Cagno. Originally a country band called Gainesville Grit, the group consisted of Ricky Cagno, drummer Max Rowe, bassist Jonathon Franklin and lead guitarist Ian Heausler before they picked up guitarist/vocalist Gytis Garsys in September 2013.
Re-established, the band quickly found its footing when it came out with its album "Tangerine Street" in the spring of 2014. The eight-track project is a homological collection characterized by gritty rock and southern storytelling lyrics complete with influences of Blues-style soloing that brings to mind the likes of Johnny Cash or Led Zeppelin.
Via: Bandcamp
If bluesy licks and southern rhythms had a baby, Grit would be their bastard lovechild of rock n' roll.
Song(s) To Know
Garsys says "Johnny Law," the first track on their album, "would be the first song to show somebody." This song appropriately features a Johnny Cash-style storytelling format, delving into what could be personal anecdotes.
He also suggested that "Savannah," part of their new material, is also indicative of the band's style. "If you can make it out to a show, we've been opening with it lately," said Garsys.
Grit's Current Explorations
Since the band's recent move in August, they "have six to seven songs down to record and some more in the works," says Garsys. Most of the band's live material has yet to be tracked, mostly due to the band establishing fan bases in Jacksonville, Orlando and Tampa.
"We're optimistic. Recording is in our minds right now, but not our forefront," Garsys said. "[We're] definitely trying to establish a fan base."
And they seem to be doing just that. Their show this past Saturday had "an optimistic turn out," and there is no reason to expect any less from Grit's next performance at the Swamp Records Showcase 2015 hosted by The JAM on Feb. 6.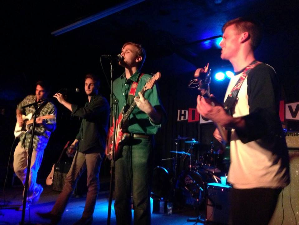 Via: Ticket Web
"Honestly, the Gainesville music scene has been growing at a nice pace," Garsys said. "In the next couple years we're going to see more artists on a national stage, maybe even if that is a silly prediction."
Garsys also spoke briefly of the inspiration for the album's artwork.
Created by the band's very own Jonathon Franklin, it represents a changing of the guard. The tangerine, for instance, serves as a symbol of the youth of music being passed on to a new generation.
Live Experience
Grit's performance this past Saturday at High Dive downtown was nothing short of energetic. The crowd was already buzzing from the funky rock of The Dalton Stanley Band before Grit took the stage. Opening with their new material "Savannah," they then transitioned to "Johnny Law," "Ah Air" and my personal favorite, "Ain't Lookin' Back," which are older songs more indicative of their past styles.
The mixture of new material, songs from their new album and cover songs was appropriately balanced. Classics like, "Are You Gonna Be My Girl" and "American Girl" kept the audience lively for when the band displayed their originals.
Via: Weotta
According to Garsys, "It was the craziest crowd so far. When the conversation between the audience and the stage start to happen, that's the stuff we really enjoy."
The connection was definitely there. When the building was full and people were dancing you could see and hear the joy in Grit's performance.
What's Next?
The band is looking forward to this year's Swamp Records Showcase, taking place on Friday, Feb. 6.
Garsys says, "We think we have a pretty solid sound and niche here. We're trying to establish a fan base outside of Gainesville, while establishing the one we have here."
Garsys says their ultimate direction is to headline shows at major festivals like Bonaroo or Coachella, but a more realistic goal for now is just to, "take things one step at a time. We all have a bunch going on, we'll see where it goes during this year and keep chugging along if it makes sense. I wouldn't be surprised at all if this goes somewhere exciting, big and maybe a career for us."
Feature photo courtesy of: Carlos M Garcia Photography
---
Trending Now
You may also like